Inaugural Tanka Fest 2013: Tanka'way
Tanka Your Way to Mandy's Pages! 
Welcome to the Inaugural Tanka Fest where Mandy's Pages unites writers and encourages dreams.  It is my honor to have you attend this gathering of indescribable talent. Over the course of this month, you will find tanka from varying themes and from different levels of tanka experiences. What I aim to experience from this tanka fest is an assimilation of tanka viewpoints, sharing and of course adventure. I hope you experience this too while having fun writing your poems. 
Tanka may be an ancient Japanese poetic genre that has been adopted by the Western civilizations during the past century or more, but that is just the bare description of what tanka really is and what tanka really means.  Tanka is a blending of emotions and actions, comparisons to what is and what could be, metaphorical statements of actions or events, or even a way to make your voice heard in a political scene.  You name it; there is a way to translate any and every feeling through tanka expressions. 
 Check out An Introduction to Tanka for writing tips. 
Image Credit: Blue Ribbon by Nirmal Dulal  at Wikimedia Commons 
---
 Without much fanfare, here are the details you have been waiting for.
Contest Duration:  June 01, 2013 00:00 EST (GMT - 4:00)   to   June 14, 2013, 23:59 EST  
Entry:  Entry is Free.  One submission per contestant. 
Theme:  OPEN THEME

Prizes: There will be TWO 'FIRST' prizes selected by the judges.  In addition there will be an Encouragement Award for the next winner. 
Announcement of Winners: Judging will take place for a period of two to four weeks after the close of the contest. This duration is based on the amount of tanka we receive during the submission period.  
Submission Guidelines:  There are a few links you have to refer to before you submit your entry. Follow the directions accordingly. 
Tanka Fest Guidelines and Submission Procedure
---
 Contest Submission Procedure 
(Copy and Paste into email)  
Addressed to: This email address is being protected from spambots. You need JavaScript enabled to view it.  
Subject: ITF tanka entry
(Body of the email)  
Name: 
Place / Country: 
Do you belong to any specific tanka group online / offline? : (such as POS / TPOS/ TSA, etc) .....
Tanka Entry 
---
  The Prizes

 

1st Prize (TWO) : USD 100.00

 

+ 4 books  + a Certificate of Excellence
(a total value of USD 200.00 each)
The books are Casting Shadows,  Grevillea & Wonga Vine, and Wind Through the Wheatfields  (donated by David Terelinck)  and Take Five: Best Contemporary Tanka, Volume 1 (donated by M. Kei)  
Encouragement Award : USD 50.00

 + a book + a fully-paid, 12-month subscription to Eucalypt + an Encouragement Award certificate

 
(a total value of USD 120.00)  Book: Casting Shadows 
Seven 'Finalists' will also be awarded certificates for impressive tanka along with a book each from the 'Poets on Site' collection. . 
---
Introducing the Judges
David Terelinck: 
David Terelinck is a part-time writer and full-time employee in commercial insurance who seriously wishes the balance was reversed. He has been writing tanka for the past six years and his tanka have been published in journals in Australia, New Zealand, Canada, Japan, United States and England. In 2011 he was on the editorial panel for Take Five Best Contemporary Tanka, Vol 4,  co-edited Grevillea & Wonga Vine: Australian Tanka of Place with Beverley George, and published his first tanka collection, Casting Shadows. David was awarded third place in the Spirit of Japan Tanka Contest 2011. In 2012 he joined the editorial selection panel of GUSTS: Contemporary Tanka. In 2012 he won the Lyrical Passion E-zine love tanka competition and was winner of the Aya Yukhi Award in the 7th International Tanka Festival in Japan.
David also won the international section for haiku in the Vancouver Cherry Blossom Festival in 2012. Responsively, David was placed first and second, writing with Beverley George, in the 2012 Haiku Poets of Northern California rengay competition. David is currently working on his next tanka collection that is due for publication in 2015.
You may purchase David's books by clicking on the link for Casting Shadows or contacting him via email This email address is being protected from spambots. You need JavaScript enabled to view it. for Casting Shadows, Grevillea & Wonga Vine, and Wind Through the Wheatfields.
 Brian Zimmer 
Brian Zimmer lives in St. Louis Missouri, USA. His work has appeared in various print and online journals including verse in the post-modern idioms at Moria, Eratio, Tower Journal and others. His non-tanka short-form poetry has appeared in Fibonacci Review, Everyday Poets, Shot Glass Journal & Magnapoets. His surrealist verse has been published in Starfish.
He began to devote himself almost exclusively to tanka several years ago and has been published in Simply Haiku, Modern English Tanka, Gusts, The Tanka Journal, (Nihon Kajin Club, Japan), Haibun Today, Red Lights, Contemporary Haibun, Skylark, and others.
In 2012 His work won an Award of Excellence at the 7th International Tanka Festival at Shonan International Village Center in Kanagawa Prefecture, Japan. It has been honored by selection for the Take Five: Best Contemporary Tanka series.

He worked closely with Japanese poet Aizu Taro on the English translation of that poet's book The Lovely Earth, also authoring the Preface to the collection. He has since assisted Mr. Aizu in the English translation of his latest book, My Fukushima.
Zimmer has written various theoretical articles on tanka along with analyses of various tanka poets' works, most recently poet Charles Tarlton's tanka-prose "Fortuna" for the June issue of Haibun Today. He also reviewed Colin Stewart Jones' collection of poems, "Basho Has Left the Building" for the March 2013 issue of Haibun Today and authored the essay: "The Tanka Sequence and Tanka-Prose as Introduction to Tanka" for the inaugural issue of Skylark: A Tanka Journal, Summer 2013.
He currently serves as an Administrator at the Facebook page "Experiment: Poetry Submission a Day".
His work takes inspiration from a variety of sources such as the ancient Japanese poetic canon including its court poetry, the later haikai movement, and the Japanese poetic-diary, uta-nikki, and Japanese free-form poetic essay, zuihitsu.
While anticipating tanka that will be submitted at this contest Brian says: "I subscribe to the notion that we poets are all writing the one great human poem. That's what I'm looking forward to from this contest: reading the human harmonies comprising and rising from that one great poem in a form I have come to love."
Kathabela Wilson: 
Tanka Poets on Site will participate in "Tanka Sunday", August 18 aboard the Queen Mary in Long Beach CA at the conclusion of the HNA conference (Haiku North America).  Those who are interested in attending may register online for the Tanka Sunday Program or contact Kathabela for assistance at her email: This email address is being protected from spambots. You need JavaScript enabled to view it. . You may also connect with her on Facebook. 
Kathabela's tanka can be read in many online and print journals and anthologies including Atlas Poetica, red lights, Ribbons, Skylark,  Eucalypt, Kokako, Moonbathing, Haibun Today, Kernelsonline, Prune Juice, Haiku News, and Mariposa and many anthologies by Poets on Site, the mother group from which Tanka Poets on Site was born. Her poems were included in Take Five: Best Contemporary Tanka Vol 3 and 4.
She was recently elected the new secretary of the 'Tanka Society of America'. She treasures technology as our contemporary magic carpet, making poetic collaboration a present and dynamic force regardless of distance. Her statement about tanka appears on the back cover of red lights, Vol 9 #1, Jan 2013: "When I read or write tanka there is a feeling like magnetism... I am drawn in as if to enter a silence that has spilled over into words to create a distinct shape with its own logic and sense of direction. I have walked through a city and finally can hear the ocean."   
---
---
  Acknowledgements: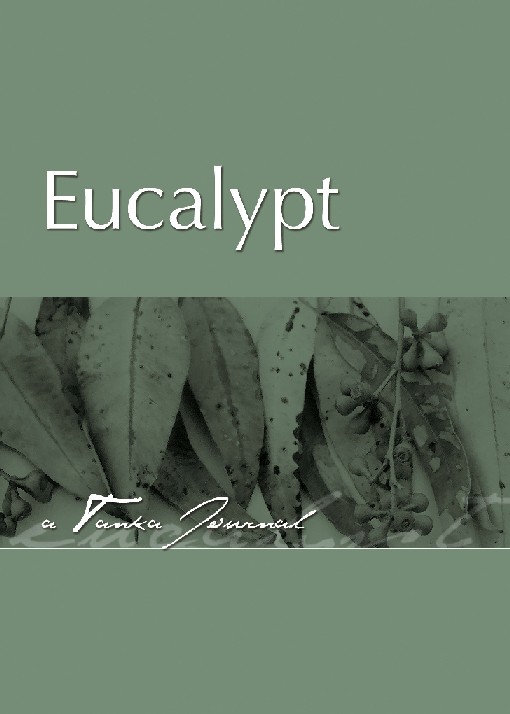 The prizes for this Tanka-Fest event have been donated by well wishers and friends.  Special thanks go to the following contributors for their support in more ways than one.
Darryl Rozario, Jim Bessey (So Write Us) and Brian Zimmer (Judge for this conetst) have contributed in cash towards the contest.
David Terelinck (Judge for this contest) has donated cash, three books each for the first place winners, and a book and one year's fully-paid membership to Eucalypt for the Encouragement Award winner.  
The three books are Casting Shadows,  Grevillea & Wonga Vine, and Wind Through the Wheatfields.  The Encouragement Award winner will receive a copy of Casting Shadows. 
M. Kei, has contributed a copy each of Take Five: Best Contemporary Tanka, Volume 1 for the first place winners. A review of Take Five: Best Contemporary Tanka, Volume 4, has been published at Mandy's Pages.
Kathabela Wilson (Judge) is instrumental in helping me co-ordinate this contest, linking me to resources and note-worthy poets. She has helped shape this tanka-contest dream. She is keen on awarding each of the seven finalists a book each from the 'Poets on Site' collection.
Michael Dylan Welch, award-winning poet and writer, author of the online magazine Graceguts, has helped with the creation of the page 'Introduction to Tanka' here at Mandy's Pages. 
Special thanks to Mac Pike for the discussions on tanka that initiated this contest plan.
Adam Clark, editor, Mandy's Pages is instrumental in designing the Contest Certificates.
This contest would not be complete without Mike L Williams, co-admin, editor and technical brain of Mandy's Pages.  He keeps the site alive and active. 
In addition, I am thankful to all who have spread the word and shared the contest links across the internet.   
---